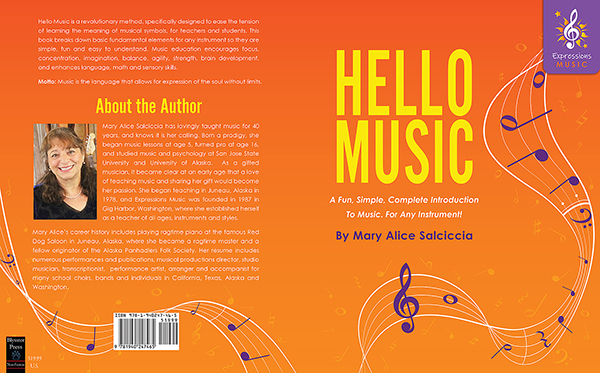 Hello Music Series
Mary has created a musical instruction program that will educate and entertain your way to knowing the initial concepts of music. As a first exposure to music, it is excellent.
Hello Music is a revolutionary method specifically designed to ease the tension of learning music. This method cares about the well being of music students and teachers, their growth, and their benefits. This no instrument workbook is an ideal way to begin learning the musical language.
Q. What kind of method is HELLO MUSIC?
A. HELLO MUSIC is an easy, fun, unique and extremely educational method of learning music one symbol at a time.
Q. Who is HELLO MUSIC for?
A. HELLO MUSIC is designed for anyone who is interested in learning the fundamentals of music. It is also ideal for those who would like to teach primary music.
Q. What makes HELLO MUSIC different from other music methods?
A. The unique quality of HELLO MUSIC is the way it explains the musical language.
Q. Is HELLO MUSIC for teachers or students?
A. HELLO MUSIC is versatile. It works as a teacherís manual or a studentís workbook.
Q. What can I expect to learn from this program?
A. HELLO MUSIC will give you all the essential elements of the musical language to read music, write music, create music and interpret rhythm.
Q. What is the original thing that created HELLO MUSIC?
A. HELLO MUSIC was created out of necessity because other methods are too difficult to understand.
Q. What makes HELLO MUSIC successful?
A. HELLO MUSIC measures success by participation. When the foundation of music is understood, the level of participation is increased.

2021
Mary has just released a NEW volume in her "HELLO MUSIC" series, "HELLO PIANO!"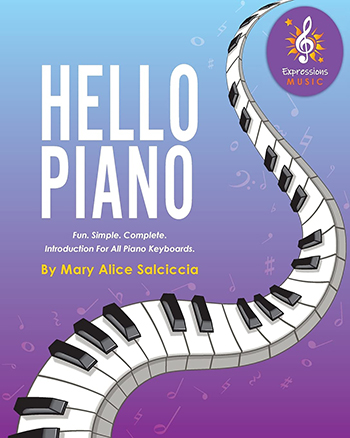 Hello Piano is a revolutionary do-it-yourself workbook that explains everything you need to know about how to get started playing and reading music on any piano/keyboard. Discover the keys, the musical alphabet, symbols, how to keep time, how to read music and play simple phrases. All basic needs are met in a series of lessons. Each page is one lesson with a variety of reading, writing, playing and rhythm activities.
Music stimulates both sides of the brain which guarantees growth and success for a lifetime. Music education improves skills including: reading, hand to eye coordination, auditory memory, math and spatial reasoning. Students reach levels of self-awareness that foster control and recognition of their emotions, and criticism is experienced as a tool to boost progress. This book expertly focuses on activities that encourage physiological, emotional, and cognitive development.
Hello Piano was created to break down the important building blocks and separate them so they are easy to learn. Most beginner music books are difficult to understand because the elements that are difficult to explain are all too often omitted. Learning material that is beyond comprehension will not be easily retained. A good instruction book sets a solid foundation and eliminates any doubt so the student can proceed with confidence.
This book uniquely separates the meaning of a musical beat, rhythm, and how to keep and adjust time. This music method provides instruction on how to set the internal clock of the student so that playing music at different speeds is learned and demonstrated. Hello Piano is the only book devised to address all the nuances of understanding tempo and rhythm, which is the most difficult part of music to both teach and learn.
The guaranteed success rate of this method is 100% and has been tested on a thousand students over a period of 40 years. Students of all walks of life, including those with issues like Autism have awakened to the world of music from this method. It is friendly, simple and complete. Hello Piano is the ideal beginner piano keyboard book.
WAYS TO ORDER THE BOOK "HELLO MUSIC" & "HELLO PIANO":